Cookie Monster Cupcakes Free Project
Posted on
Hi everyone, today I am sharing a free project on things you can do with the Little Venice Cake Company's icing nozzle #233 grass. You can find this product here. I wanted to make some cupcakes for my daughter's kindergarten class, and I thought that monsters would be pretty cute, so I had a look around this internet and saw some pictures of "hairy monsters" made with buttercream, so here is my attempt.
Step 1: You will need, cupcakes, icing bag & #233 nozzle, I used blue buttercream because I wanted to make cookie monster from Sesame Street, you will also need white chocolate buttons for the eyes, and mini cookies. For the hairy monster I used Smarties for the eyes and nose and a black food pen.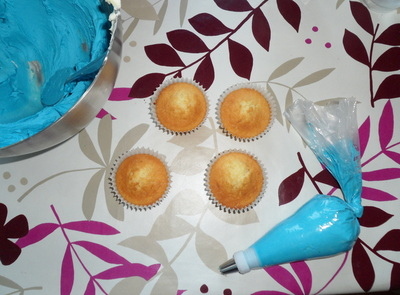 Step 2: Making the hair on the hairy monster, this is the same technique as making grass. Hold the piping bag vertically above the cupcake and squeeze down hard and pull up and release the pressure. I practiced this a few times to get it right, it is definately very forgiving, if you made a mistake, you probably wouldn't notice. Pipe the hair all over the cupcake - it was very quick to do!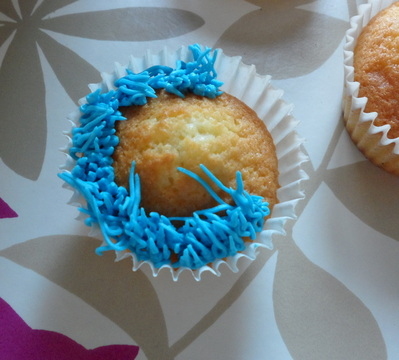 Step 3: For Cookie Monster: To make sure it looked even, I cut off the little dome of cupcake that was just sticking up (see picture) and then for Cookie Monster's fur, hold the icing bag vertically above the cupcake and squeeze the bag, but this time hold the pressure and move around the cupcake so you have a continuous stream of icing coming out, again cover the top of the cupcake.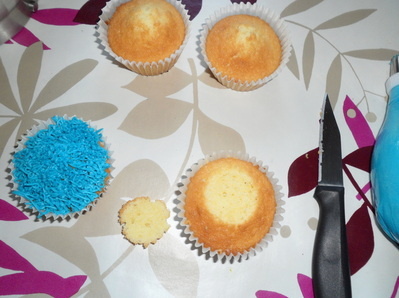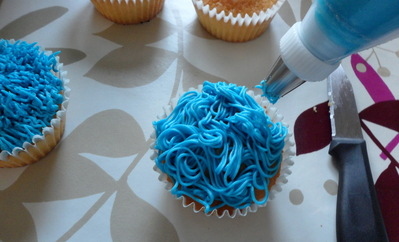 Step 4: The eyes: take 2 white chocolate buttons for cookie monster and 2 smarties for the hairy monster, stick them on the cupcake. Then make black circles for the pupils. I used an edible pen and drew them on, but you could use chocolate or royal icing.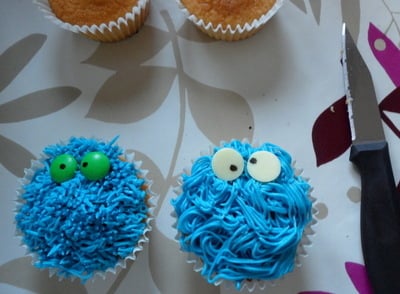 Step 5: Cookie Monster's cookie. Take a spoon and using the end of the handle, push it onto the cupcake to create a gap to push the cookie into. Then pop the mini cookie into the gap. You can always add abit more icing around the cookie to hide the gap if any is showing.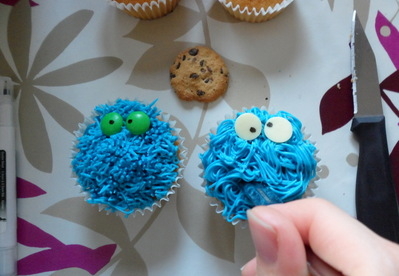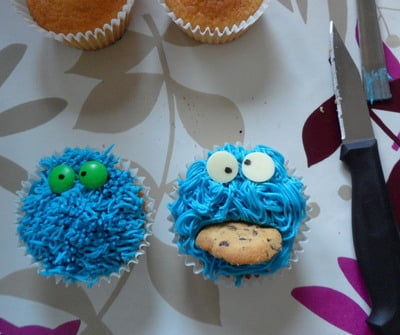 Cookie monster is now finished! You could leave the hairy monster like this or add another smartie for a nose like this: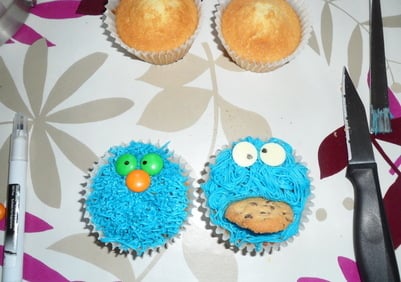 And this is the collection of monsters I ended up with (a couple of hours later...)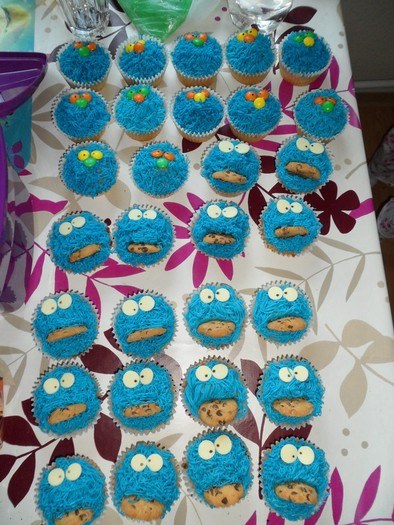 Gina x